One accessory you will require for complete and effective assembly of your deck will be deck clips. Although everyone knows that deck clips are part of your deck, no one wants to see them. This is as true when it comes to deck clips for composite decking as for any other type of decking installation.
Fortunately, our composite decking clips are designed to be totally hidden deck clips. These concealed deck clips, two for each board, support and hold your deck together without creating an unsightly break in the appearance of your deck construction. We have hidden deck clips available to fit all of our board systems, in 304 stainless steel, 304 stainless steel with black powder coating and TPO plastic.
Types of hidden desk clip systems
We offer mini gap system clips with CEC clip and locking clip mechanisms, T-Clip system clips with CEC and locking clip mechanisms or starting clips.
Our mini gap desk clip systems allow only a 3/64-inch gap between boards that is nearly undetectable, providing a virtually seamless look. The T-Clip system allows a 7/32-inch gap that creates a classic deck look with the clips themselves still completely undetectable.
Note: Mini-gap system is recommended only for interior applications or where temperatures don't vary much or don't get too hot as it leaves no space for expansion.
CEC Vs. Locking clips Vs. Starting clips
You will choose need both CEC clips vs. locking clips in your installation but where they go will depend upon the conditions surrounding your deck. Locking clips completely lock down and secure your boards so that they do not move at all once clipped in. CEC, or control expansion & contraction clips, have some give to allow the board to expand or contract. Starting clips, also called start clips or starter clips, are clips you will use for the boards at either end of your deck, where the deck "starts."
If you are not sure whether you want a deck clip system with locking clips or CEC clips, get in touch with us at NewTechWood or check our great install videos and guides! We can help you make sure you are installing it correctly.
T clip System
Gap Spacing 7/32 inch
For Boards: US01, UH02
TC-2 Material: TPO Plastic
Starting clip
Groove height of 5/16 to 21/64 inch
For Boards: US01, US02, UH02, UH05, UH07, UH18, UH22
TC-5 Material: 304 Stainless Steel
T-clip Installation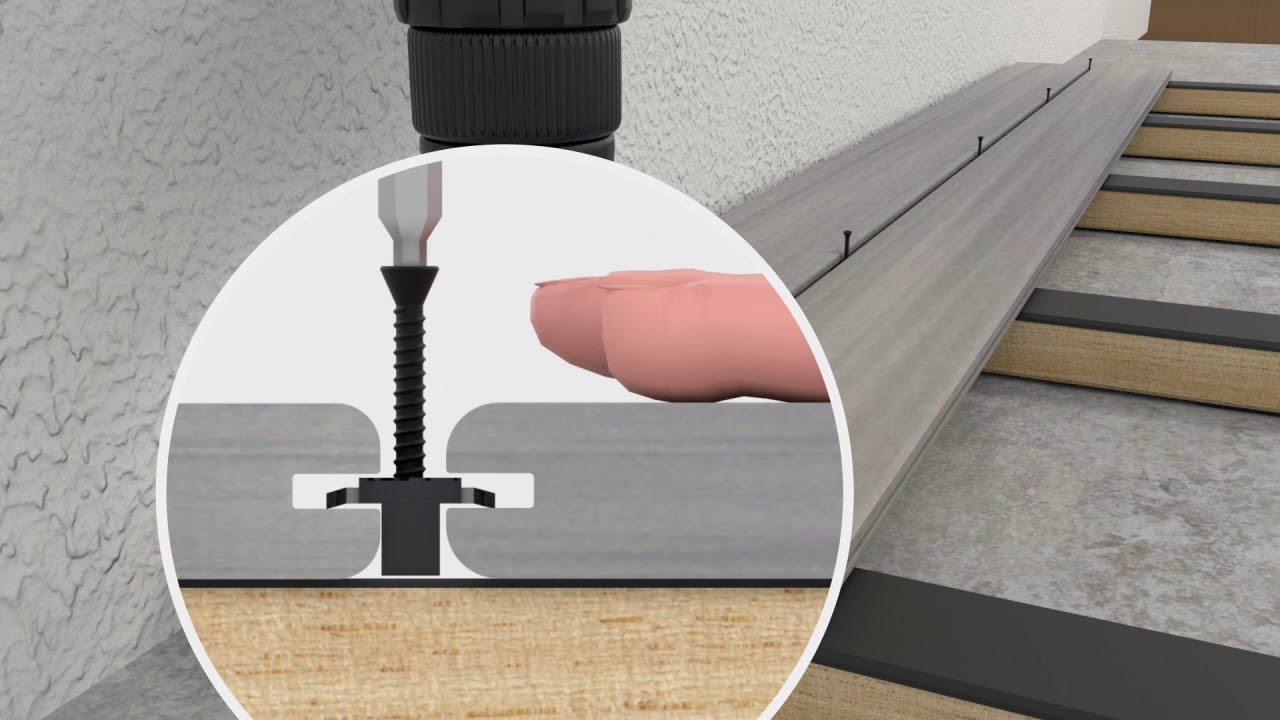 Coloured Head Screws
Fascia boards and square edge boards do not have grooved sides to accommodate the Secret Fix Clips, so need to be top fixed with Coloured Head Screws.
Stainless Steel Grade 304 (CDS & CS)
Specially designed for conventional and capped composite boards
A seamless, neat finished on fascia boards, screening, stair treads and picture framing
Available for Timber fix and Metal fix
When top fixing screws ensure you pre-drill the hole slightly larger than the screw allowing the boards to expand and contract.
Please note:  The Metal Fix screws are suitable for steel joists of up to 2mm in thickness. If thicker than 2mm, then you must pre-drill each hole.  Cobra Clips are not warranted for fixing to Stratco Probeam or similar double-wall steel profiles.
For a seamless finish choose coloured head screws to match the colour of the board: